Average Dimensions for a Golf Cart
The average golf cart dimensions are around 92 x 48 x 75 inches for a standard 2 seat golf cart. The dimensions of different types of carts will vary the most in length due to the number of seats a golf cart can have. More seats added to a cart will add to its length but usually minimal amounts to the width and height.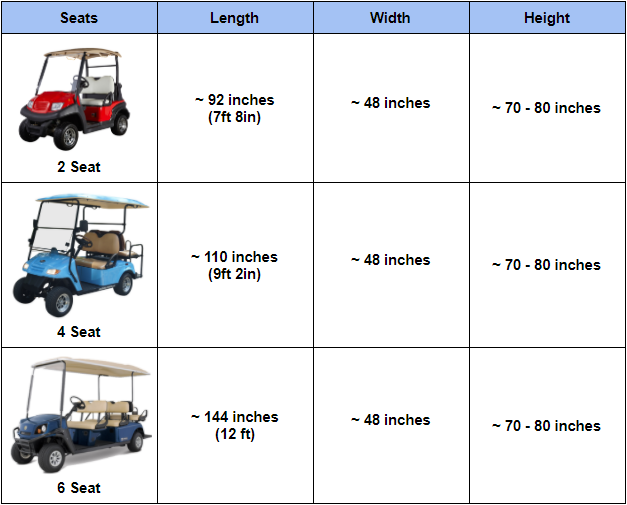 The width and height of most golf carts do not change much as the number of seats is increased. The width of each kind of golf cart will only differ by one to two inches with 48 being the average. The height of each kind of golf cart varies a relatively small amount as well. One thing that may affect the height of a golf cart the most is a custom lift kit. At J's golf carts, we can custom design new golf and give it upgrades like a lift kit and Kenda Terra Trac tires. Check out the look of some of our upgraded carts.
Can You Fit a Golf Cart in a Flatbed Truck?
Knowing that there are varying golf cart dimensions can make you uncertain of whether or not your new cart will fit in your truck bed. While many trucks have the space to fit a golf cart, some trucks have a shorter bed by design and may not be able to transport one. Before going to pick up your new golf cart to take home, it is a good idea to make sure you will be able to successfully transport your cart.
In order to confirm that your golf cart will fit in your truck bed, you will need to find out the measurements of both the golf cart and your truck bed. To measure your golf cart, we suggest using a tape measure and a friend to hold one end. Measure from the very front end of your golf cart to the center of the rear tire. This will give you the minimum amount of space you need in your truck bed for your golf cart to safely sit during transportation.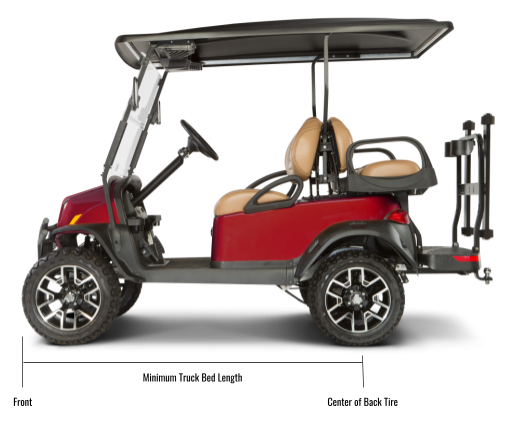 The average golf cart measures around 75 inches or 6.25 feet from these two points, and most truck beds have around 80 inches including the tailgate, so you should be able to transport a cart with no issues. You may not be able to close your truck bed due to the back end of some golf carts extending beyond the liftgate of your truck bed. This is ok, but you must use several cargo straps to secure the golf cart from the backside. With some trucks, the width of the golf cart may be an issue rather than the length, so make sure you check that it will fit.
If the golf cart dimensions are too great to fit in your pickup truck, or you do not own one, a simple workaround would be to use a trailer for transportation. If you do not own a trailer, some companies like U-Haul rent utility trailers for transporting cargo. If you have an SUV that can accommodate a trailer hitch, this is a good option to take for stress-free golf cart transportation. You can rent a trailer for around $20-30 per day from a hauling company.


If you will be transporting your golf cart with your pickup truck, you will want to invest in some heavy-duty loading ramps for your truck. These ramps are a necessity for getting your golf cart in and out of your truck. 
There is one last thing you need to know after you have confirmed that your golf cart will fit onto your truck. You will need to find out if your truck can carry the weight of your golf cart. Find out more information on your golf cart's weight and what your truck can carry. Most golf carts that you can fit into a truck bed are under the maximum weight capacity, but be sure to double-check your vehicle's manual.
Where will your golf car fit while stored?
If you purchase a golf cart for personal use, you may want to know the average golf cart dimensions when you are deciding where you are going to store your cart. Here are some ideas for where your golf cart might fit if you think you don't have enough space.
Garage:
Most one-car garage dimensions are only big enough to fit one vehicle and provide a few feet of space around the vehicle. If you have a small car, you may be able to fit your golf cart into a garage with it depending on how much extra space your garage has. If you are going to store your golf cart in the garage you will most likely have to choose between having a car or golf cart stored there.
Golf cart cover:
If you do not have extra space in your garage or under a carport, you will need to find an alternative method for storing your golf cart. If you have limited space, a solution would be to purchase a weatherproof golf cart cover. A golf cart cover is an inexpensive way to keep your cart safe from the elements without having to build a new garage.
Storage Unit:
If you do not have the extra space and do not want to leave your golf cart outside, you may want to look into renting a storage unit. If you are not going to use your golf cart very often, this will be a good alternative to keeping it around your house.
J's Golf Carts
If you are looking for a new golf cart for your own personal use, check out the carts we provide our customers at J's. We can design a custom cart for you or you can pick from our existing collection. We can equip your new golf cart with accessories and upgrades too. Head over to our main site to see what kinds of carts we offer.